Accommodations
La Chapelle d'Abondance
There are many lovely, fairly priced hotels in La Chapelle d'Abondance, which is only a 3 hour hike from the Refuge of Bise and less than 5hours from the Dent d'Oche. If you wish to stay in a hotel, and eat a multi-course dinner for not too much money, this is a good town to do it in. A gîte d'étape is available as well.
Where in the world to sleep the next night?
The next day presents a lodging problem for purists who do not want to stray from the GR5. The Col de Bassachaux refuge is now closed. The first refuge directly on the GR5 is thus in Switzerland, the Refuge de Chésery, about a 8 hour 20 minute walk from the Chateau d'Abondance.
If this seems too many hours to walk, or if the weather is uncooperative, there is a fine Refuge at Trebentaz at 1866 meters (6,120 feet), open from mid-June to mid-September (guardian 06 07 19 49 34 or 06 81 02 93 80). It is a 3 to 3 1/2 hour walk from la Chapelle d'Abondance, branching off the GR5 on a trail to the left at Sur Bayard. The next day, from the refuge, it is about a 6 hour walk to the refuge of Chésery. Thus virtually no walking time is lost, and very little extra elevation is required. The Trebantaz website suggest coming directly from the Refuge de Bise, thus not staying in La Chapelle d'Abondance. Personally, I highly enjoyed my hotel in the town, but not staying there would equalize the amount of time walking these two days if you are coming from the refuge de Bise.
The Swiss Chésery refuge is very basic so you could continue on to a nice hotel in Les Crosets, 20 minutes off the GR or a gondola ride, and a 9 hour walk from La Chapelle d'Abondance. Remember, these times do not include rest stops and meals, and are for average walkers. Start early, and with a forecast for good weather, as you will eventually be walking on exposed ridges.
When I was doing this part of the GR5 for the second time, my easygoing friends insisted on taking a taxi, from La Chapelle d'Abondance to the Col de Bassachaux (where we had an omelet before setting off walking) , saving over 6 hours of walking. We then walked on through Switzerland to the Hotel-Refuge of the Mines d'Or in about 5 hours.
Savor the day walking in Switzerland
The walk from Les Crosets in Switzerland back to the French border at the col de Coux is one of the highlights of the GR5. On dirt roads, next to lush green meadows filled with flowers, you watch cows grazing, their over-sized Swiss cowbells clanking, amid a scattering of huge Swiss farmhouses. At La Pierre you can see a cowbell collection, and watch cheese being made. You won't want to hurry this part of your vacation.
Back in France after Switzerland
Whichever lodgings you chose the night before, it will be enjoyable to spend the next night at Les Mines d'Or hotel-refuge-restaurant, with some private rooms and some dormitories, and with good food, good fishing and charm. It is a 6 and 1/2 hour walk from Plaine-Drance or Tinderets, and about 3 hours from Les Crosets (and only a 20 minute detour from the GR5).
After the Mines d'Or, there is no need to retrace your steps. You can cut across the valley floor and climb back up to the GR5 at Bonnevalette, in about 1 and 1/2 hours. After attaining les Allamands in an hour and 35 minutes, a boring one and one-half hours' descent brings you into Samoëns. From Allamands, you have a choice to walk down the road instead of following GR5. Your total walking time this day is less than 5 hours. Use your spare time to enjoy Samoëns.
Samoëns is full of Life
The center of Samoëns is colorful and lively, with many restaurants.  There's a gîte d'étape and a choice of hotels. I suggest staying Samoéns if you can, rather than in Sixt-Fer-à-Cheval, even though it means a longer walk the following day.  Advance reservations are highly recommended in summer in this frequented town; Samoëns was full on my first trip through, and I had to take a taxi to Sixt (and back, so as not to miss any of the trail).
A long and hard day is best, but not necessary.
Leaving Samoëns along the river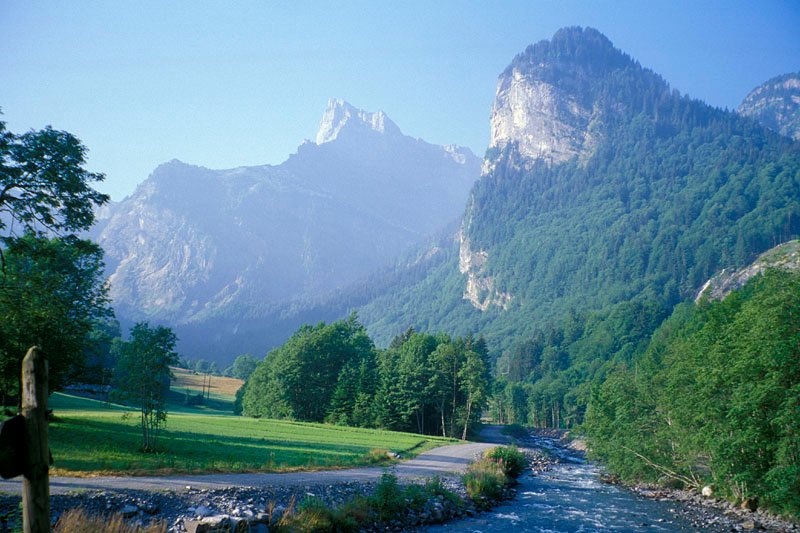 From Samoëns, a lovely 2 hour valley walk alongside the Clévieux River brings you to the foot of the Anterne plateau. You could spend the night here, in Sixt-Fer à-Cheval in a hotel or gîte d'étape, and take a taxi or tour to see the famous view at the Fer-à-Cheval (horseshoe) to the east of the town. If you do so, your next day will be cut to a reasonable 6 hours of walking.
Now it is a 1,100 meter (3,600 foot) grimpe (long, arduous climb) up to the plateau. The Topo Guide time allocates 3 hours and 5 minutes for the climb to the Collet d'Anterne, but that is not long enough: Another half-hour, at least, is needed if you climb at standard speeds.
After a total walk of 6 hours from Samoéns, you arrive at the refuge of the Chalets d'Anterne, on the plateau. Should you stop and call it a day? No! Continue another 2 hours, climbing another 350 meters (1, 100 feet) to cross the Col d'Anterne and descend to the Refuge de Moëde, where you will have made an advance reservation. This refuge has a great view and a high mountain ambiance.
Visit Le Brevant, and Descend to Chamonix, not Les Houches!
First view of the Mount Blanc massif after the Refuge de Moëde
After a relatively easy, but exciting, 3 hour walk from the Moëde refuge, that might involve crossing some snow patches, you reach the Col du Brevant (2,368 m), and your first full view of the Mont Blanc massif. Many easygoing walkers will be tempted to walk down 45 minutes to Pranplatz and take the télépherique there down to Chamonix, bypassing the Brevant summit.
I recommend, however, that even easygoers continue on to the Peak of Le Brévant, which is only 160 meters higher, though one usually has to cross some snow fields and must climb a short ladder. Arriving at the summit, at 2,526 meters (8,200 feet) one has a superlative view of the Chamonix Valley below, the plateau behind, and more.
To avoid the 1,500 meter (4,900 foot) steep descent on foot to either Chamonix or Les Houches, easygoers can take the télépherique down to Chamonix (via Pranplatz). But if you are a purist you will continue down on foot, being careful to tread lightly and with your legs bent, and using trekking poles, in order to save your knees.
Assuming you are walking down by foot, stop and rest at the Bel Lachat refuge, and then take my advice to branch left, leaving the GR5, and descend to Chamonix in 2 1/2 or 3 hours rather than staying on the GR5. Spend some time in the Chamonix valley (learn why on my page on Top Attractions of the GR5. For those who are "slavishly" following the GR5 bear right at this junction, staying on the GR5 and descend in 2 1/2 or 3 hours to Les Houches. (And then, in order to avoid missing the marvels of the Chamonix Valley take the train or bus to from Les Houches to Chamonix — on the same afternoon or the next day, and buy your lift tickets for the Valée Blanche!)